While I was in London I visited the National History Museum of London, and it was really nice. It was a rainy day, and my friends suggested us to see the museum. The idea was great, and I was looking forward of seeing something else in London. The National History Museum exhibits different specimens from various segments of natural history. This museum is a home of 80 million items, and it has a historical and scientific value. It is recognized as the pre-eminent center f natural history and research of related fields in the world.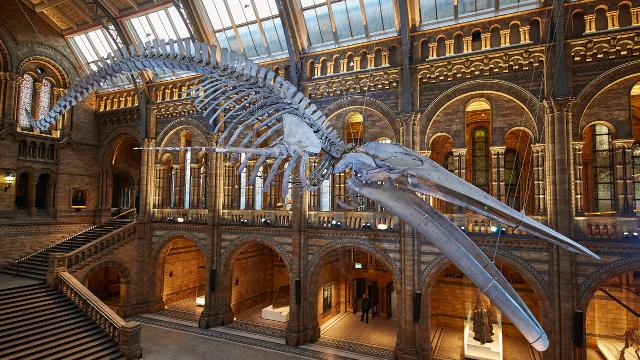 Location and getting there
The
National History museum is in Kensington, London
, on Cromwell Road. The easiest way to get around is to use Citymapper or Google Maps. I prefer Google Maps, and I highly recommend it. From Ealing Common we used the Tube and we got on the train that goes to South Kensington Station. The ride lasts around 20 minutes. Admire the scenery on the way. Once you reach the station, outside there is a map which will show you which way is the museum. There are more museums in the area.
Entering the National History Museum
The National History Museum, as some others, are open to the public and are free of charge. When we got there, there was a queue, but entering the museum was going fast. It is recommended that you go earlier, since there are always a lot of people, and the museum is not small. It has a lot to offer.
In the museum
Once you enter the museum, you can notice a big skeleton of a dinosaur. On the left side is the Human Evolution section, and most probably everyone starts wit it. I found this very interesting and informative. There were a lot of new information for me. Around the area there are a lot of skeletons and examples of human spices, and our ancestors from different eras. It shows us and tells us how people looked, and I can say that as much the same we are, that's how different we are.
There were a lot of fossils displayed on the walls, from 200 millions of years ago. Some of them were very big. Different kind of stones were displayed, and some rock formations created during the years of the Earth. There was also a sections about the insects, where the insects were presented in an interesting way, which makes you active and curious.
On the upper floor there is a section about earthquakes and volcanoes. With explanations on the walls, video explanations, pictures, there was even a simulated earthquake at one part of the area. People were standing on a platform, and than the platform starts to move and an earthquake sounds were coming out from the walls.
How much time do you need exploring the museum
In this museum you can spend from minimum one hour and a half to three hours. Everything depend on how much attention you pay on the things around, believe me, there is a lot to be seen and read.
Have you ever been to the National History Museum in London? What was your favorite section?
Follow my story on
Travel Story Post.