With the holiday season fast approaching, Europe is transforming into a winter wonderland, complete with dazzling lights, festive decorations, and charming Christmas markets. Each European city embraces the spirit of the season, offering unique gifts, delicious treats, and unforgettable memories. In this post, I'll guide you through some of the best European cities for Christmas shopping.
Advent Basilica Christmas Market, Budapest, Hungary
The Advent Basilica Christmas Market in
Budapest
has been crowned the best Christmas market in Europe for two consecutive years, and for good reason. Here, you'll find an array of handcrafted goods from nearly 80 artisans, including folk art, textiles, ceramics, jewelry, designer clothing, and more. Enjoy a glass of mulled wine and savor the unique culinary offerings, from handmade chocolates to chimney cakes. For eco-conscious shoppers, this market uses biodegradable cups and cutlery, ensuring a sustainable shopping experience.
Advent in Zagreb, Croatia
Zagreb's Advent program has been named the best Christmas market in Europe for three consecutive years, and it's not hard to see why. The Croatian capital comes alive with a rich program of events, concerts, gastronomy, ice skating, and more. The aroma of mulled wine and local delicacies fills the air as festive lighting creates a warm and inviting atmosphere. It's no wonder this market has become a beloved tradition for both locals and tourists.
Christmas Market in Basel, Switzerland
Basel, Switzerland's largest Christmas city, offers a picturesque experience. The well-preserved old town shines with warm Christmas light, and the heart of the festively decorated old town hosts a magnificent Christmas market. With around 130 traders and craftsmen selling their goods in rustic wooden huts, you'll find a wide selection of gifts in a truly enchanting atmosphere. Don't miss the beautiful Christmas tree with ornaments by renowned decorator Johann Wanner.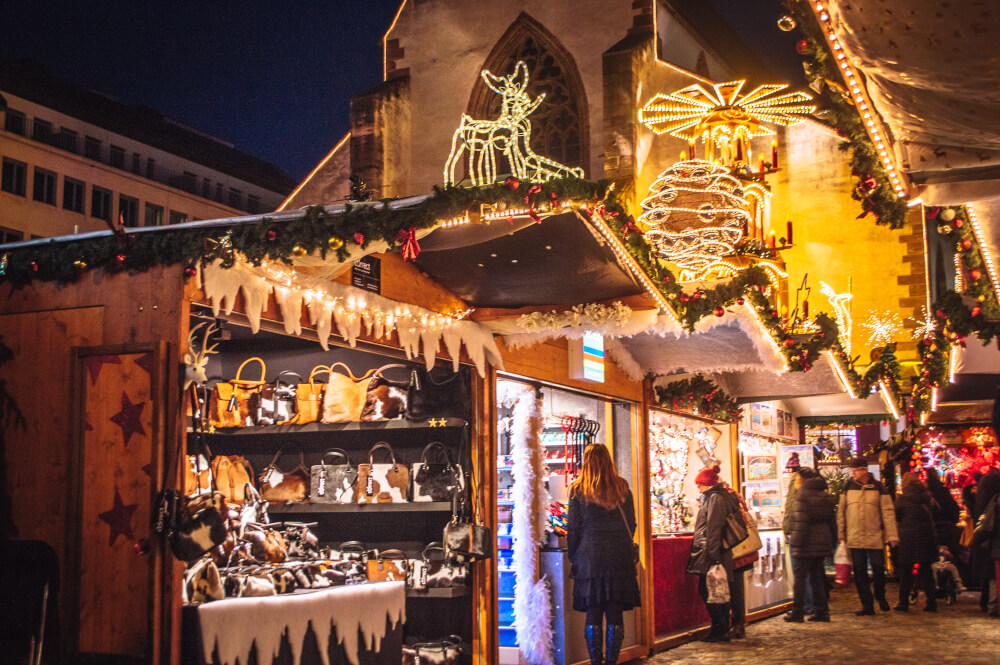 Christmas Market in Brussels, Belgium
Winter Wonders in Brussels is an unmissable event, attracting 2.5 million visitors. The event offers magical lights, cultural and fun activities, and unique gift ideas. Enjoy sound and light displays on the Grand-Place, a majestic tree, a skating rink, and a delightful Christmas market. Explore the treasures, from crafts to gourmet delights, that await visitors from around the world.
Christmas Market in Metz, France
Metz, France, invites you to immerse yourself in the festive spirit with welcoming Christmas markets in the city's main squares. Discover handmade gifts, taste the finest gingerbread, and enjoy a ride above the rooftops on the City Skyliner. The town's market hall is filled with gastronomic Christmas goods, and the shops are open on the four Sundays before Christmas. Don't miss the
St. Nicolas
festivities on December 3rd and 4th.
Christmas Market in Vienna, Austria
Vienna's most beautiful squares are transformed into magical Christmas markets during the holiday season. The Vienna Magic of Advent market at Town Hall Square offers Christmas gifts, decorations, sweets, warming drinks, and fun Christmas workshops for children. Additionally, the culture and Christmas market in front of Schönbrunn Palace provides traditional handicrafts, handmade Christmas decorations, and Christmas concerts in an imperial setting.
Christmas Market in Edinburgh, Scotland
The world-renowned Edinburgh Christmas Market at East Princes Street Gardens is a must-visit. It offers a wide range of craft stalls, food and drink vendors, rides, and attractions, all set against the backdrop of the iconic Edinburgh Castle. Enjoy the famous Star Flyer with spectacular city views, the Christmas Tree Maze, the Helter Skelter, and the Santa Train for a festive and fun-filled experience.
Christmas Market in Düsseldorf, Germany
During the festive season, Düsseldorf will have plenty of atmospheric news. At the northern end of Königsallee, directly next to the Hofgarten and Kö-Bogen, this year visitors will be able to enjoy a 1,700 square meter ice rink on Corneliusplatz. Right next to it, a new Adventure Market invites all visitors, and especially families with children, to experience the magic of Christmas. The children's program has been expanded overall, so this year, for example, there will be a children's activity tent on Jan-Wellem-Platz with a show every day.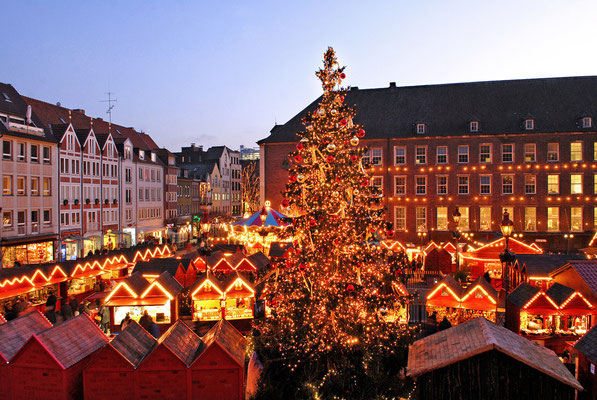 These enchanting European Christmas markets promise an unforgettable shopping experience filled with
unique gifts
, delicious treats, and the warmth of the holiday season. Plan your visit to one or more of these magical
Christmas destinations
, and create cherished memories that will last a lifetime. Whether you're seeking handcrafted goods, festive foods, or a charming atmosphere, Europe's Christmas markets have it all.